Traditional Half-Round Gutters
Provide an unexpected flair to your home
In addition to being functional, half-round gutters can provide an unexpected flair to your home, especially if your home has historical significance. Half-round gutters are the perfect addition to your historical home, or to any home that needs some added personality. Gutterman Services is one of few contractors that offer half-round gutters in the D.C. area for over 28 years!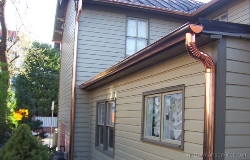 The seamless half-round gutters offered by Gutterman Services are available in aluminum or copper. These gutters are custom-made to fit to your home and the Gutterman Services team will provide you with a specialized consult so you know that your half-round gutters are made specifically to fit your homes unique orientation. Half-round gutters require skilled craftsmen to make ensure the installation of your half round gutters will stand up to the variety of weather conditions our area experiences.
Gutterman Services has installed countless half-round gutter systems in the past 26 years. The half-round gutter systems have provided the customized or historical solution to many clients, and we are certain that a new half-round gutter system will provide the solution to yours!
A half round gutter system is a fantastic and specialized style on any historical building or custom home. Contact Gutterman Services to install a new seamless half-round gutter system today by filling out our online estimate form today. Always feel free to call us at 571-297-1445.



Installed 6 inch 1/2




Round and 4 inch




round Downspouts




all with hidden hangers.

1/2 round copper




gutters in Leesburg, VA

1/2 round copper




gutters in Leesburg, VA

1/2 round copper




gutters in Leesburg, VA