Gutterman's KGuard Leaf-Free Covered Gutters
The Easiest Way to Maintain Clean Gutters
The easiest way to maintain clean gutters is to invest in Gutterman's KGuard Leaf-Free covered gutter system from Gutterman Services. Because of the unique design, the Gutterman's KGuard leaf-free covered gutters come with a lifetime guarantee against clogging and sagging.
Gutterman covered gutters are seamless and stronger than other kinds of gutters. Because of their oversized construction, they are able to carry more water than traditional gutters and have oversized downspouts and inside corners to control spill over. Paired with the seamless construction, a gusseted patented hanger design system assures that the gutter will not sag. This unique hanger design also provides for the strongest installation without screws, glue, or other interference with roofing shingles.
The secret to our Gutterman covered gutters lies in the features: There is high back and fold-over protective fascia that integrates with the flashing to protect your roof. A passage is present for rear drainage whi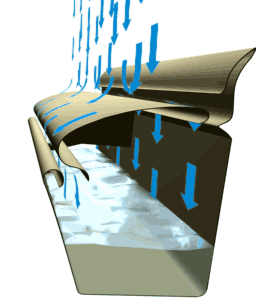 le a removable hood snaps onto the hanger for full support at the front and the back and a node aligns the hangar for perfect installation every time. The hanger engages and supports the front of the gutter, while a smooth, attractive face and corners will compliment the look of your home or office. The hangar design is angled which provides for leverage and added system strength. Furthermore, the hood prevents leaves and debris from entering the gutter and water adheres to the hood and drains directly into the gutter. The bottom of the Gutterman KGuard leaf-free gutter system is a full 3 1/4 inch wide to accommodate a 3 x 4 downspout for superior flushing and draining and has added thickness and strength on the attachment fastener.
Since August of 1999, Gutterman Services has installed over 4 million feet of KGuard Covered Gutters on more than 20,000 homes and businesses in the D.C. Metro area. We are proud to be the exclusive distributor of KGuard leaf-free covered gutters in the Northern Virgina, D.C. Metro Area.
Quit worrying about clogged gutters turning into sagging eyesores on your home. Fill out our easy online estimate form and a Gutterman Services representative will call you within 24 hrs. Always feel free to call us at 571-297-1445.
THE PROCESS