HAIL= YES   but now what??  
YES-GUTTERMAN is your LOCAL STORM DAMAGE EXTERIOR EXPERTS.
Clients, Neighbors and friends,   NoVA's largest ever hail event happened in April of 1999.  It changed  forever the way hail, hail claims, and hail damage is dealt with here in our area.  That claim was over 1.5 billion dollars way back then and left a path 14 miles wide x 50 miles long of sporadic destruction!
Hail 1" or greater is large enough to permanently damage your homes.  The 1.25" hail that hit homes through out the cascades neighborhood in Sterling June 1,  Monday night may have damaged our roof, gutters, soft metals, and siding.  In most cases houses with newer roofs ( less than 5 years old) will see little if any long term damage.   Those roofs with older 3 tab style roof shingles should now be inspected to see if they are damaged enough to warrant roof repair and an insurance inspection.
Here come the storm chasers:   Over the first  two weeks after any measurable hail event, the neighborhoods become  inundated by contractors who ironically look a lot like ME.  However, most of these guys and their fancy trucks and pearly smiles, will be out of towner's and they chase hail storms for a living.   No harm done talking with them, just be aware they sell it, sub it, and move on to the next storm.  Their companies therefore will not remember you or your job, especially if they sell hundreds of jobs in the same locality…  The storm chasers goal is to get you to sign a universal document calling for them to negotiate your claim on your behalf, if they don't get anything from your insurance company you are out nothing. If they do you are obligated to let them complete the work.   They then control the process.  In some cases this isn't all bad, but you should know that the home owner's policy is only yours and no rights to it should ever be surrendered to the storm chasers. In fact, most insurance companies today will tell you directly not to deal with storm chasers, and that they have no contractual rights over you. So, the final negotiation is yours, and any money paid out by the insurance company should come directly to you.
Gutterman offers our inspection services without expectation to you to inspect your homes roof.  If we find damage will alert you as to the actions you need to take next.
YES,  Gutterman does roofs!  A lot of them, and for over 25 years now… Don't let our name fool you, as we even dedicated this webpage to hail damage….
We are here to help..
Chris Pauly,
PS, Please help me by sharing this with our local neighbors and friends.
June 1, 2015,  Sterling VA Hail level 2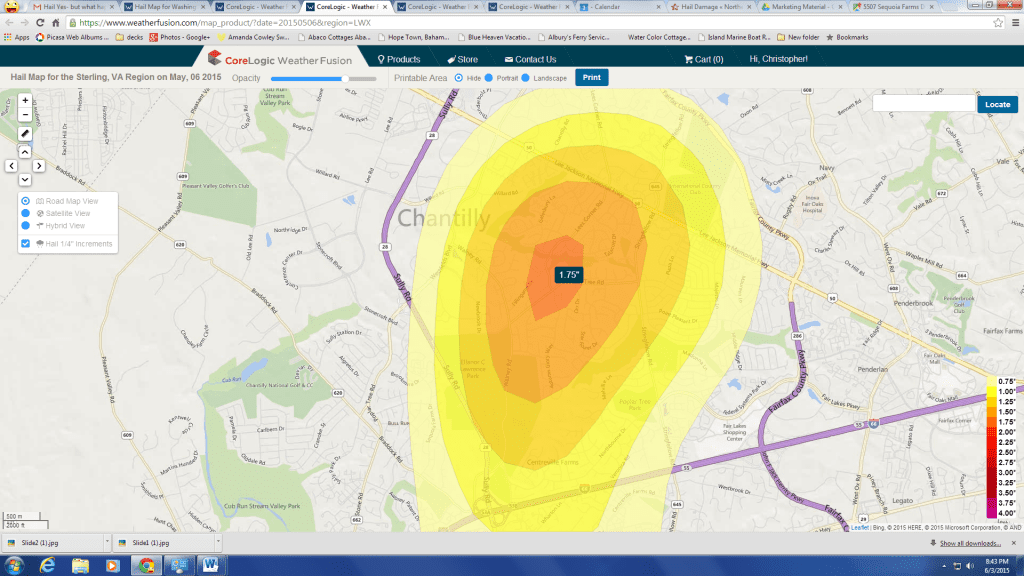 May 2, 2016 Woodbridge/ LakeRidge VA Hail Level 5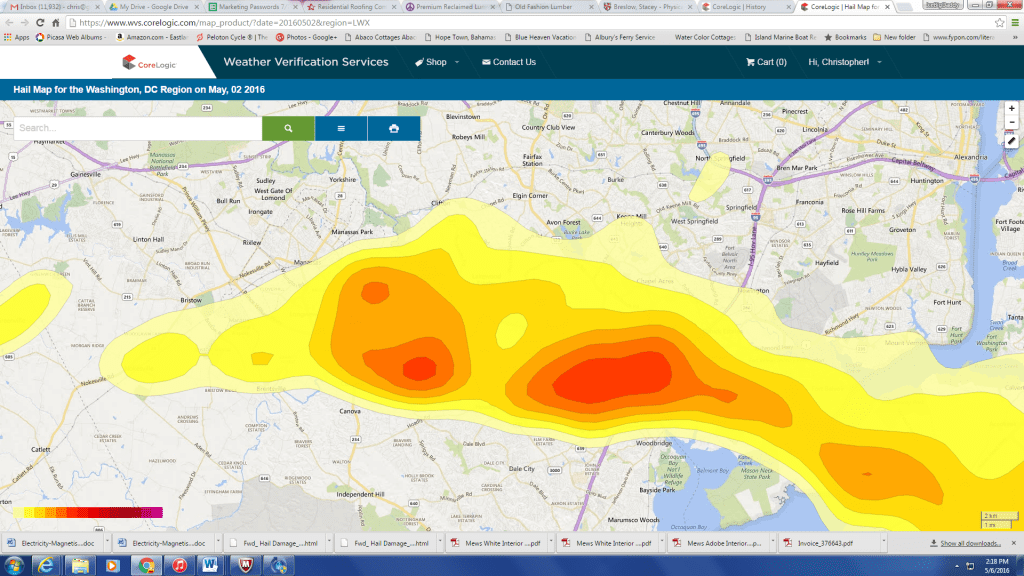 May 6, Chantilly Centerville