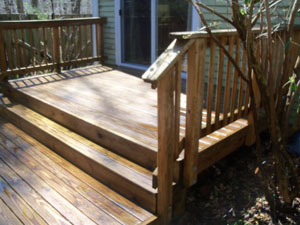 Maintaining a clean exterior is an important part of maintaining the integrity of a building and power washing is the best way to keep your structure looking like new. If not kept clean, the materials used to construct the building may rot or become a breeding ground for mold, making the structure weak, compromised, unhealthy and unsightly. Power washing is the easiest way to maintain a clean exterior structure and this type of maintenance is recommended by professionals once a year.
Gutterman Services is ready to help you with your Northern Virginia, Montgomery County, Maryland, and Washington DC power washing needs! We are experts in the industry and fully licensed and insured, giving you peace of mind that your power washing project is being handled by professionals!
While some companies simply spray down a structure and call it power washing, we at Gutterman Services take the time to thoroughly clean and scrub every area of exterior surface of your building. We clean from up-close, not just from the ground, and pre-treat your home with an environmentally friendly detergent before starting to power wash. All of the products that we use are eco-conscious, biodegradable, and will not harm plants or animals.
We can power wash any exterior surface, including: siding, brick, roofs, gutters, decks, railings, furniture, and concrete, as well as driveways and sidewalks. Don't let mold or rot overrun your exterior! Contact us and let us take care of your Northern Virginia, Montgomery County, Maryland, or Northwest D.C. power washing project today! Always feel free to call us at 571-297-1445. We want to hear about your latest power washing project!