Helpful Tips, Windows, Windows - Helpful Tips | August 27, 2018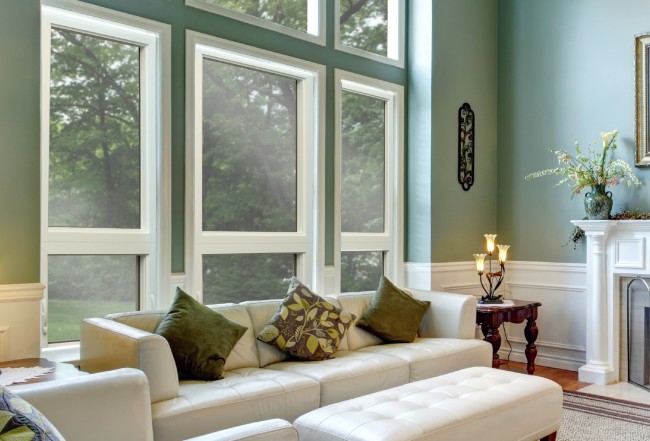 Are your windows leaky, drafty or outdated? If you are in the market for new windows there are a variety of factors that may affect your decision.
Here are 7 things to consider when selecting new windows for your home:
1) Materials: Most replacement windows are made of vinyl or wood.  Wood is best for longevity, visual appeal, offering more color options and popular in historic homes. Vinyl is best for being low maintenance, good ROI and low cost on materials and installation. In general, wood windows are more expensive than vinyl replacement windows.
2) Size of your windows: The size of your window opening will affect the cost – larger windows require more materials and will cost more. Some retailers sell replacement windows in a set size, with no room for customization. This typically costs less up front because they're manufacturing large quantities of the same size windows; however, this process usually requires the use of wood shims, extra caulk and insulation to fit in your windows space correctly. Non-custom windows can also reduce the energy efficiency of the window.
If you're hiring a window contractor to install new windows, they will charge more because of the additional installation time and materials. To maximize your windows' energy efficiency, your best bet is to order windows customized to fit your exact openings.
3) Type of window: The most common types of windows – single & double hung, picture windows, and slider windows – are all comparable in price depending on the size. Garden, bay & bow windows require full reconstruction for their installation, which will increase the cost of installation.
4) The color of the window: Most replacement windows are available in white color only. However, some window manufacturers offer the option to customize the color of your new windows to match or complement the exterior of your home. This custom option will likely increase the price of your windows.
5) Glass type: There are a large variety of insulated glass packages that can impact the price of the window. Triple pane windows are generally more expensive than double pane windows. Many windows use argon or krypton gasses to insulate between the glass panes. The type of insulating glass can also impact the price of the window.
6) Window Grids: There are a variety of window grids to choose from and they all vary in cost. It's important to know that just because you have a certain grid pattern in your existing windows, it doesn't mean you have to go back with the same type. You can choose to put grids in the top sash only or go with a different pattern altogether, such as prairie or diamond grids. Another trend is to have grids on the front of your house and not on the back. Here are some window grid design options: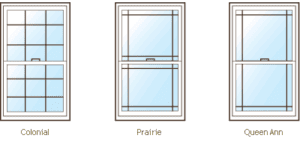 7) Installation: Installation costs can vary depending on the complexity of the installation. Double hung windows are the most common window style and most professionals have plenty of experience installing them. Window styles such as bay & bow windows usually require additional reconstruction work during the installation process, resulting in a higher installation cost. Some windows will require framing a new rough opening for the new window, which means removing the studs and setting new headers in place.
All of these factors will impact the price of your replacement window project. The best way to get an accurate price is to have Gutterman Services come to your home and evaluate your situation. We will present you with a variety of options, fully explain the process and give you a written quote for your replacement window project. Click here to shop for new windows.