Company News | April 15, 2013
When it comes to cleaning your gutters, most people do it themselves, call around for the cheapest price or the quickest show up time… or just forget about it all together. Back in 1986 gutter cleaning was our only service and now 27 years later we are the best of the best at our service work.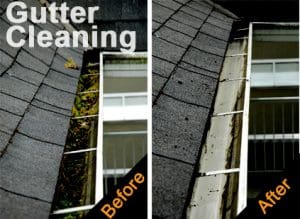 We are one of a very few companies that cleans gutters the right way. We hand scoop all of the debris out of the gutter and then flush water through the gutters and downspouts. Overflow is very commonly caused by a clog in the downspout. Other companies that use leaf blowers to drive out the debris in gutters do not address clogged downspouts. Additionally, we re-nail the gutters and check that they are properly sloped. Small details like checking downspout straps and not clogging your underground drains are also steps that we take to ensure Gutterman's SERVICE is better than the rest!
Many customers wonder how we can quote their gutter cleaning without coming out first for an estimate? Using software and websites, we are normally able to see a satellite picture of your home. This enables us to see the size and height of your home and give you accurate gutter cleaning prices up front.
Call today to ask about our Service Contract for Gutter Cleaning. We'd love to hear from you!
(Recommended service of gutters is at least two times per year – late spring and late fall).