Power Washing | August 12, 2020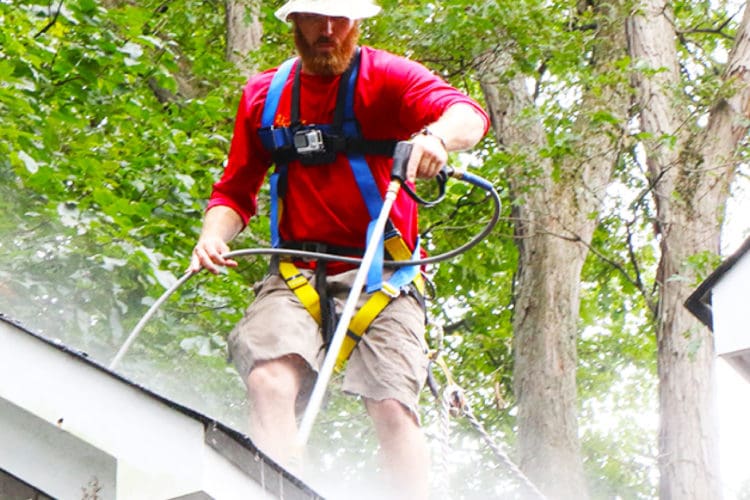 One of the many perks to being a DMV homeowner is the amount of "deck/backyard" weather we get in a year. Whether it's spring, summer, fall (and sometimes even winter), there are just so many days when all you want to do is relax outdoors with your loved ones. 
So, it's no surprise that making your house exterior plus driveway, deck, or fence nice to look at gets added to your to-do list, at least a few times during the year. Enter power washing, the go-to option for that quick, effective, and deep cleaning you've been wondering about, and with it, this is the first question you're probably asking yourself (especially if you've never done it before):
How much does it cost to power wash my house? 
The short answer is – it depends. For DMV area residents, your price can range anywhere from $99 to $1,000+ based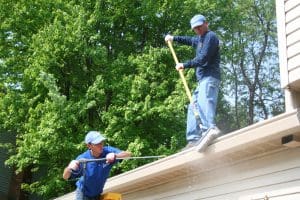 on the surface type, area, and the level of cleaning it'll require. Let's break down what you'll need to consider for the most accurate power washing estimate. 
1) Will you hire someone or DIY?

Before anything else, let's discuss the cost of hiring a professional company vs. renting/buying a power washer to doing-it-yourself. In terms of price, daily rental of a power washer will cost you between $100 to $300 whereas buying one will start at $300. Meanwhile, hiring a pro typically starts at around $200, with labor and equipment costs, and typically runs between 25-75% higher than the cost of equipment rental/purchase. But there are other costs you should consider, such as:

Your Time:

 There's the cost of your time spent on purchasing the equipment, researching/learning how to use said equipment, and of course, actually executing the job.



Property Damage

: There's the added potential cost of damaging your property (by choosing the incorrect type of power washing equipment and/or cleaning supplies or not knowing how much pressure to apply).



Serious Injury

: There's the increased potential of injuring yourself or others. According to

Consumer Reports

, there were 6,057 emergency room visits due to power washing related injuries in 2014, with 14% requiring the person to be admitted for further hospitalization.   

Liability Costs:

For any property damage or injury, you'll have to cover it with your own insurance, whereas if you hire a pro, they'll have their own coverage.
In a nutshell, power washing for beginners is not as straightforward as YouTube may have you think, and the initial dollars you save may actually cost you big time.
2) What do you want to power wash?

Your cost will vary based on the specific area of your house or surrounding surfaces you want to power wash. Here are the most common areas customers typically consider, the price range for each (including how it's calculated), and a few key things to think about.
Siding (i.e. exterior walls of your house):

Before we get to price, it's important to note most professional power washing companies will caution you against this service if you have aluminum siding and will likely request to consult with you first for wood siding. That said, for vinyl, cement/hardie siding you'll typically be charged by the number of sides you want to power wash and the number of stories in your home.

The cost will usually start at $100 per side and increase based on various factors such as the number of stories.
Roof

: Like siding, it's important to note that the decision whether you should or shouldn't power wash your roof will be based on what it's made of and its current condition. If your roof can be safely and effectively power washed,

the cost will often depend on your roof size, shape, and the number of sides you'd like washed, ranging between $500 to $900+.
Flat Surfaces (driveway, patio, walkways): For most flat surfaces made of stone or concrete, you'll get charged by the square foot, with prices around $0.50 per square foot.
Deck or Fence:

Both decks and fences can get tricky and require expert consultation prior to calculating an accurate quote. When it comes to cleaning wooden decks and fences that are stained, specific pressure levels and commercial grade cleaning products are often key. Most pros will charge you by the size and positioning of your deck/fence.

Typical prices will start between $300 to $350 and can go up to $1,000+.
3) What is the state of the surface you want to power wash?
The third and final thing you'll need to factor in when thinking about cost is the current state of your surface—that is, whether it will require additional work in order to prepare it prior to the actual power wash service.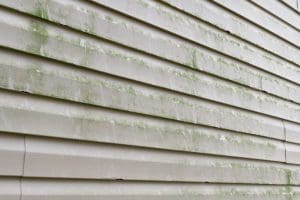 For example, homes built prior to 1980 will need a lead inspection and possible removal service before initiating any power washing services. Without this precaution, there's a potential risk of lead becoming detached and falling onto the ground around your house (which is a huge health hazard). This, of course, will come at an additional cost.



Another example can include the need to remove and/or secure loose shingles from your siding or roof to prevent damage. Again, this will require additional time and effort, which will come with added costs. 
Visit our instant quote calculator to get a price on many of the power washing services. Note that some projects (e.g., power washing for decks, fences, and roofs) will require a consultation before a quote can be calculated.
Not confident that power washing is a solution for you? Visit this page to learn more about power washing.